DBT Therapist Onboarding Workshop (Virtual)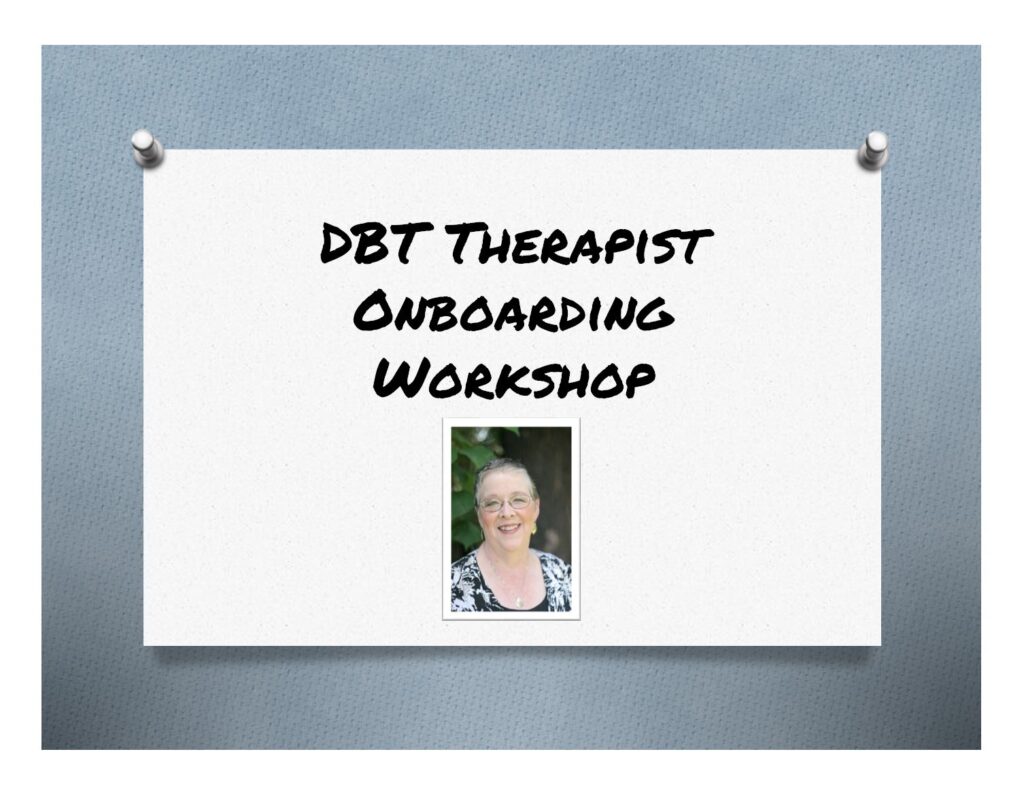 Friday, June 3, 2022 9am-4pm
Saturday, June 4, 2022 9am-4pm
Friday, June 10, 2022 9am-4pm
Saturday, June 11, 2022 9am-4pm
Friday, June 17, 2022 9am-4pm
Skip Saturday, June 18, 2022 (Father's Day)
Friday, June 24, 2022 9am-4pm
Saturday, June 25, 2022 9am-4pm
(2 15-minute breaks and 45-minute lunch break daily)
Online via Zoom
Earn 40 Continuing Education Units
Registration closes 5/23/2022 or when all spaces are filled.
COURSE DESCRIPTION
This workshop provides a thorough introduction to the principles and methods of Dialectical Behavior Therapy (DBT) and offers demonstration and practice in the implementation of same.
Some of the strengths of this workshop, in addition to the concepts and theory of DBT, is in-workshop demonstration and practical experience doing pre-treatment assessment, completing and reviewing Diary Cards, doing BCA/SCAs, practicing the structure of DBT Individual sessions, risk assessment and planning, and working with in-session therapy interfering behaviors, as examples. The workshop will offer an overview of the DBT Skills content and offers teaching guidelines for DBT Skills groups. This workshop will also offer recommendations for "coaching on the floor" in residential and other milieu treatment environments.
This workshop provides opportunities to practice DBT techniques and interventions but does not include assessment of the participant's abilities or competency in DBT. The material in this workshop will help prepare clinicians for DBT-Linehan Board Certification. However, the workshop certificate of completion is not equivalent to certification which requires both knowledge of DBT and recorded session samples rated for adherence to the DBT model. For information on steps toward DBT-Linehan Board Certification, go to www.dbt-lbc.org. Dialectical Behavioral Therapy (DBT) was developed by Marsha Linehan, PhD at the University of Washington (Linehan, M. M., 1993, 2015). Although DBT was originally developed to treat women with Borderline Personality Disorder (BPD), it has proven effective for a wide range of issues, particularly those stemming from inability to or difficulty in regulating emotions. DBT is an evidence-based and principle driven treatment and has been shown to: enhance motivation to live life more fully; improve a person's ability to regulate emotions and focus attention more effectively; build stronger relationships with others; decrease behaviors that are harmful to self or others; and gain the ability to manage a life crisis. Numerous studies have demonstrated its efficacy in treating suicide, self-harm, reducing psychiatric hospitalizations, reducing treatment drop-out, substance abuse disorders, some eating disorders, emotional dysregulation between couples and adolescents/families and severe emotional/behavioral disorders in children (DBT-C).
TARGET AUDIENCE  
This workshop is designed for treatment providers looking to gain foundational training in comprehensive Dialectical Behavior Therapy (DBT). This DBT Intensive Onboarding Workshop is to prepare treatment providers who will be participating in a DBT Consultation team while providing Comprehensive DBT Programs and who will receive further consultation and training as part of that team.
One of the underlying goals of this workshop is toward increasing the number of DBT-trained service providers and more inclusive diversity of therapists on our teams. Getting new staff trained in DBT in a timely manner is often an ongoing challenge.
PRESENTER – Click Here for More
LEARNING OBJECTIVES – Click Here for More

FORMAT AND TEACHING METHODS
This workshop will use reading assignments, PowerPoint presentations, exercises, role play, videos, homework assignments, lecture, demonstration, and practice to assist in effective practice of comprehensive DBT therapy as part of a DBT team.
ATTENDANCE AND PARTICIPATION
In order to effectively implement DBT comprehensive treatment, this foundational training is essential. 100% attendance, participation in interactive activities and completion of identified readings, is required for those seeking CEs and those wanting a Certificate of Completion.
If there is an emergency or other unforeseen reason to miss a training session, a review of the video for online training sessions can be arranged for you to get the content missed, however much of the workshop is experiential and essential for learning and implementation.
For online workshops, please keep your camera on throughout the workshop.
READINGS AND ASSIGNMENTS
Required reading before or during the period of the workshop:
Koerner, K., (2012) Doing Dialectical Behavior Therapy, A Practical Guide, New York: Guilford Press.
Please have these books available for use during the DBT Onboarding Workshop:
Linehan, M. M. (2015). DBT Skills Training Manual (2nd ed.). New York: Guilford Press.
Linehan, M. M. (2015). DBT Skills Training Manual Handouts and Worksheets (2nd ed.). New York: Guilford Press.
Required article readings before or during the training period of the DBT Onboarding Workshop sessions are (links to articles will be sent upon registration):
Validation and Psychotherapy – Linehan
Case Formulation Chapter – Linehan, Koerner 1997
Required readings during or following the DBT Intensive Onboarding Workshop are:
Linehan, M.M., (1993a). Cognitive-Behavioral Treatment of Borderline Personality Disorder. New York: Guilford Press.
Pryor, K. (2006). Don't Shoot the Dog!: The New Art of Teaching and Training (3rd ed). UK: Ringpress Books.
In order to effectively provide DBT treatment, an in-depth understanding of Linehan's 1993 text is essential. If participants are new to DBT, following this workshop, we highly recommend Shari Manning, PhD's 15-week guided chapter-by-chapter read through Linehan's text. "Back to the Book: Cognitive Behavior Therapy for Borderline Personality Disorder". https://www.shop.ticllc.org/Back-into-the-Book-CBT-of-BPD-Book-Study-Back-into-the-Book.htm.
Patricia Gieselman receives no renumeration for recommending this course.
TUITION
Continuing education certificates for those who qualify are included in the cost of registration.
Standard Rate
$900.00 per person (reduced from $1,450.00)
If you prefer to pay by check, please make checks payable to "Choices Counseling & Skills Center". Registration will not be confirmed until receipt of payment. All payments must be received no later than May 26, 2022 to ensure confirmation of registration.
Please mail checks to:
Choices Counseling & Skills Center
37 Auburn Avenue, Suite 1, Sierra Madre, CA 91024
Tax ID number: 26-3577521
CONTINUING EDUCATION
Certificates of Attendance will be provided to each attendee who completes all 40 training hours. Note: No partial continuing education credit can be given. It is required that attendees are present for the entire training in order to receive any continuing education credit.
Patricia Gieselman Marriage & Family Therapy, Inc. (dba: Choices Counseling & Skills Center) is approved by the California Association of Marriage and Family Therapists (CAMFT#128621) to sponsor continuing professional education for MFTs, LCSWs, and LPCCs. Course meets the qualifications for 40 hours of continuing education credit for LMFTs, LCSWs, LPCCs, and/or LEPs as required by the California Board of Behavioral Sciences.
CA Board of Registered Nursing: Patricia Gieselman, MFT is approved as a Continuing Education Provider for California's Board of Registered Nursing (CEP#15873). Course meets the qualifications for 40 hours of continuing education credit for RNs as required by the Board of Registered Nursing.
CA Psychological Association: Patricia Gieselman Marriage and Family Therapy, Inc. (dba: Choices Counseling & Skills Center) is approved (PAT#037) by the California Psychological Association to provide continuing professional education for psychologists. Course meets the qualifications for 40 hours of continuing education credit for California licensed psychologists as required by the California Board of Psychology.
Cancellations, Refunds and Substitutions